En Masse Marketing / Grill It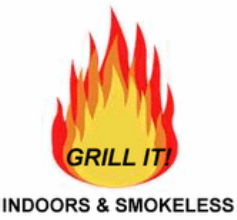 Booth: S5-28
4301 W.William Cannon
YUMMM! Bring the Delicious, healthy outdoor flavor of food, indoors.
Smokeless stove top grill for delicious meals without the work.
This unique multi-functional 2 piece grill converts your stove into an indoor smokeless Bar -B-Que.
The heavy-duty grill plate grills food golden brown with perfect even heat for low-fat or no-fat delicious cooking. The stainless steel drip pan beneath is filled with ½ cup of water, juice, wine or beer and captures excess fat & grease to eliminate smoke & splatter while simultaneously steam-flavoring for moist juicy results.
Cook on gas, electric, propane, outdoor grills and camp stoves. Even works on the new radiant heat glass cooking tops ( all you need is a low to medium heat that turns it red when you start the burner).